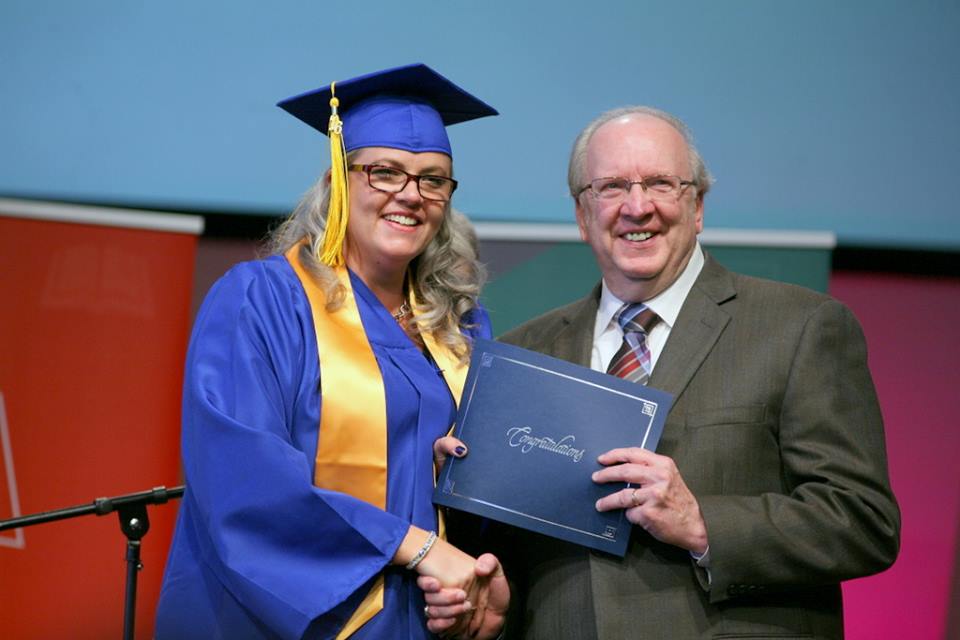 GOING TO CHARIS BIBLE COLLEGE WAS THE BEST DECISION OF MY LIFE!
I began Charis Bible College in November of 2013.  I graduated 3rd year in May of 2016.  I was terrified when I started school because I thought it would be like everything else in my life – a failure.  I held onto a hope that I would find what God had created me for – His divine destiny for my life.  The longer I stayed in school, the more I realized the wrong impression I had of who God is and the wrong image I had of myself.  It was a slow process, but my life was completely changed in those 3 years.  I am forever grateful to all the instructors that poured into me and to all the Godly friendships I formed at Charis Bible College Colorado.  Please take a look at some of the highlights of my time in bible college.  I pray you are blessed!
Charis Bible College Colorado
Erasing the chalkboard of my heart from wrong beliefs..
I will bless the Lord at all times… HE'S GOOD!!
Music has always been a vital part of my life.  I grew up in a musical family and had a "family band".  When I left home at 18, I put my music on the shelf.  However, the gifts and calling of God is without repentance.  When I started bible school, I had decided I wasn't going to be a part of the praise and worship….  then my very first day of school I witnessed Daniel Amstutz (the worship leader at Charis) and I knew I wanted to be a part of whatever he was doing up there!  So I tried out for the choir and I stood on the risers all my first year.  At the end of my first year, they were holding auditions for "frontline" singers.  I tried out and got the part!  I went from the choir to the front and got to hold a mic.  So my entire 2nd year, I sang every Monday and Wednesday morning and Thursday afternoon.  What an amazing experience to lead people into worshipping the Lord.  My third year, I stepped back and just sang on Thursday afternoons for Healing School.  My second and third year, I played my guitar and led praise and worship at nursing homes on Sundays.  What an amazing experience it all was!  Take a look at some photos!
2nd Year Missions Trip to India
Hyderabad, India
As a second year student at Charis Bible College, everyone is required to take a missions trip.  This was the first time I have ever been overseas.  Before going, our team leader has us fill out a questionnaire asking us what we wanted to do on the trip such as teaching, adults or children etc.  I asked for everything EXCEPT children's ministry.  So, I was put on the children's ministry team.  Haha..  It was the exact place God wanted me to be and I grew tremendously from the hours of being with the children of India.  Some were in church settings and some were in orphanages.  My team elected me to play Goliath in our David and Goliath skit.  I was also honored to lead worship in various places we went.  It was an amazing experience!  I witnessed such a hunger for the things of God.  Me and my teammates worked together with effortless joy.  I do not know when, but I have no doubt that I will return to India one day and continue to spread the gospel there.  Hallelujah!
Midwest Gospel Truth Rally
On the road with Andrew!
This is one of my FAVORITE experiences while in bible school.  Upon returning from India, I was able to go and help on the Midwest Gospel Truth Rally with Andrew Wommack.  This one was different from all the rest because Andrew decided we should rent a big bus (coach) and we all ride together.  I got to go on a bus trip with Andrew!  How awesome is that?!?  I was also asked to help with praise and worship in all three sessions.  I also helped with set up, tear down, and was a prayer minister before and after each session.  This whole experience was one I will forever be grateful for!  Surrounded by amazing men and women of God and being a representative of Andrew Wommack Ministries.  Wow…
Writing on my heart the truths of the Gospel - the too good to be true news!!